There are currently 40 greyhound tracks operating in 12 different states
Greyhound racing contributes millions of dollars to state and county governments as well as charities.
More than 15 million people visit greyhound 48 racetracks resulting in more than $100 million in revenue for state and county governments yearly.
More than $2 billion will be wagered each year.
A track capable of sustaining a pari-mutuel handle of more than $500,000 will employ a minimum of 600 people. This figure does not include "area" economic impact for restaurants, motels, gasoline sales, etc.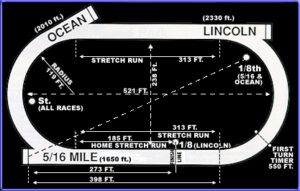 RACING FACTS
Most Greyhound programs consist of up to 15 races, each with eight Greyhounds
Greyhound races are over the standard distances of 5/16, 3/8, 7/16 and 9/16-mile
Greyhounds will race over the 5/16-mile course in approximately 31 seconds reaching speeds of up to 45 m.p.h.
Greyhounds are bred to run are only muzzled to prevent any chance of over-zealous play in the turnout pens and to assist in determining photo-finishes (a camera technique developed for dog racing)
Tracks by State
Alabama
Arizona
Arkansas
Colorado
Florida
Iowa
 Kansas
Massachusetts
New Hampshire
Rhode Island
Texas
Wisconsin
West Virginia