Although physically racing greyhounds is banned in most US states, online greyhound betting is still legal in most of the US. There are a couple of reputable US-based online greyhound betting sites where you can place bets of all different odds on your favorite dogs.
In this guide, we're going to give you the lowdown on the legality of greyhound racing, show you how to bet on dog races, explain how greyhound betting works, and explain all the different types of bet that you can place on greyhound races.
I hope you enjoy our greyhound betting guide!
Is Greyhound Racing Legal In the United States?
First things first, we need to talk about the law. Greyhound racing is a hot topic in the United States and remains controversial because some greyhounds are treated poorly by their owners. However, it's worth noting that many greyhound trainers take good care of their dogs and rehome them once they're too old to race any more.
Regardless, there are many legal restrictions in place.
Greyhound racing (i.e. the physical act of racing the dogs) is banned in most US states, but 6 states currently allow it and have greyhound racing tracks in operation – Florida (12 tracks), Texas (3 tracks), Alabama (1 track), Arkansas (1 track), Iowa (1 track) and West Virginia (2 tracks).
However, Florida recently voted to outlaw greyhound races for 2021, so as of January 2021, all 12 Floridian tracks will cease to be used. This will leave 8 greyhound racing tracks across 5 states in the US – Texas, Alabama, Arkansas, Iowa, and West Virginia.
So is greyhound betting legal in the US?
The act of betting on a greyhound race taking part in another state is not illegal in most states – the majority of states allow you to legally watch live greyhound racing in other states and use greyhound racing betting sites to gamble on the outcome of the race. The laws on this are always changing, so double-check the legal status in your state.
So why is there this strange exception to the rules?
Well, back in 2006, the United States introduced anti-gambling measures known as the Unlawful Internet Gambling Enforcement Act or UIGEA for short. Due to lobbying from the powers that be, horse racing and greyhound racing were exempt from the bill, keeping it legal to bet on horse racing and greyhound races in most US states despite the act itself being banned in many of them.
Hopefully that clears things up!
Best Online Greyhound Betting Sites
Bonuses
Bet $200, Get $200 Extra
100% up to $100
If you're looking for online betting sites that let you bet on greyhound races, you won't find many trustworthy examples. The best greyhound betting sites are based in the US, have been around for many years, and have a very trustworthy reputation.
It's not easy to find these sites!
The best online betting sites for greyhound races will have deals with racing tracks that allow them to stream greyhound races live to bettors in other states. They will also be legally licensed and they must pool their money with the physical racetracks to ensure that all winning gamblers get an equal cut whether they placed the bet online or in person.
Here are the 2 best betting sites for greyhound racing online: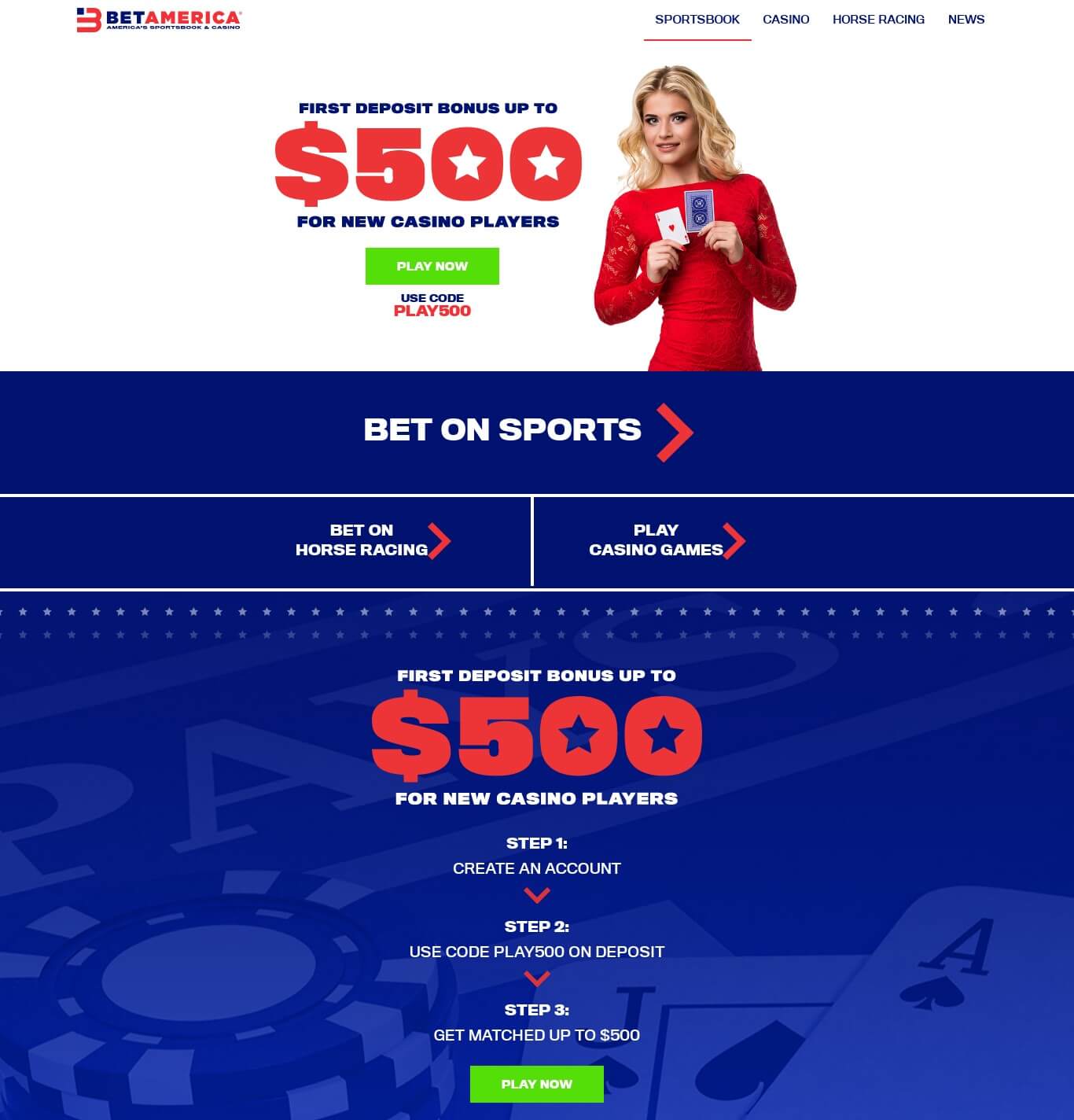 Bet America is a race betting website that is safe, reputable, and based in the US. The website features a live racing feed, and you can bet on horses as well as greyhound races. You can also gamble in their online casino, play online poker, and there are real-money welcome bonuses for new players.
Pros
   

US-based website

   

Bet on greyhounds or horses

   

Real money welcome bonuses

   

Online casino games too

   

Wagers pooled with greyhound tracks
Cons
   

Some state restrictions

   

Live video a few seconds behind

   

Designed more for horse racing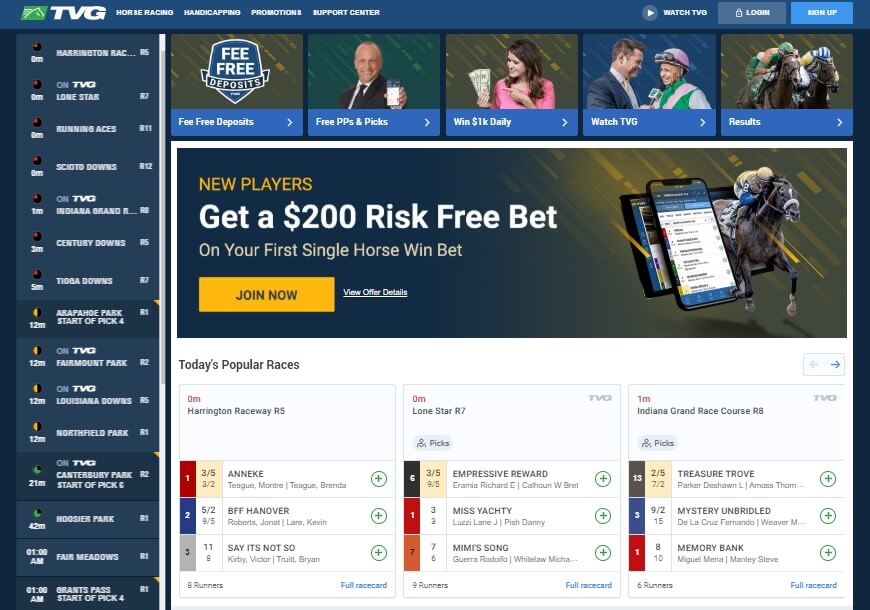 Established way back in 1993, TVG has been a prominent name in the race betting industry for nearly 30 years. This US-based race betting company is perhaps best known for its association with the TVG horse races channel (a.k.a the greyhound racing channel). TVG has a mobile-friendly betting site and decent welcome bonus promotions for new gamblers.
Pros
   

Established for over 25 years

   

US-based website

   

Known for famous racing channel

   

Mobile-friendly website

   

Decent welcome bonuses

   

Wagers pooled with greyhound tracks
Cons
   

State restrictions

   

Only covers 150 tracks (inc. horses)

   

   

   

   
How to Bet On Dog Racing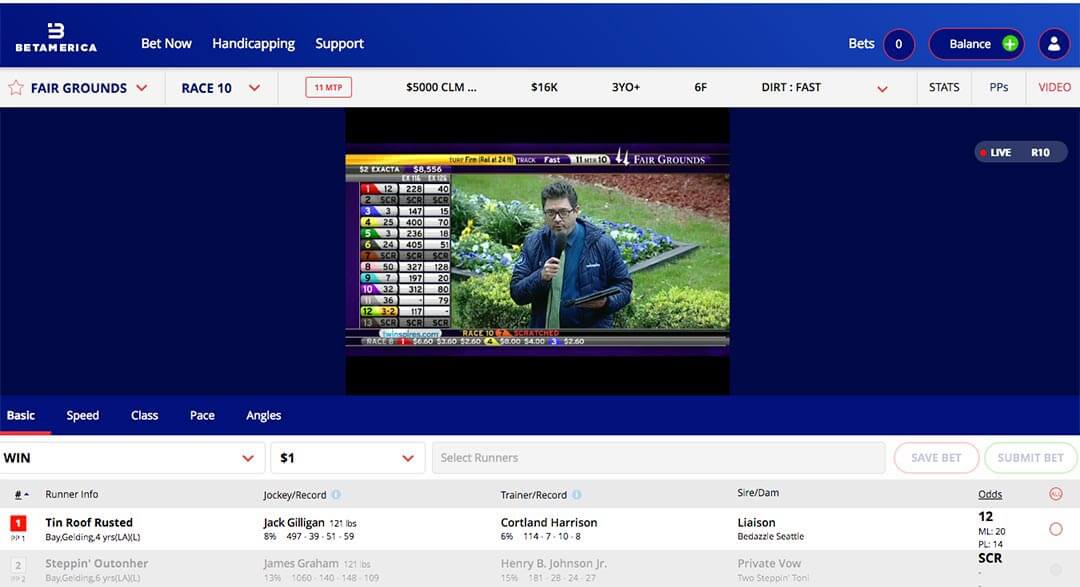 If you want to know the best way to bet on dog races, you have 2 options:
Go to a greyhound track and bet in person

Bet online with a greyhound racing live website
 Unless you live in (or near) one of the handful of states where greyhound racing is legal, you're probably not going to get to a greyhound race easily. For most Americans, betting on greyhounds online is the best option. Also remember that betting sites are legally required to pool their wagers with the tracks, so the odds and winnings are the same either way.
Just to remind you – some states ALSO do not allow betting on greyhound races online, so make sure you're in a state where at least one of these options is available to you. If you're in a state where both greyhound racing AND online gambling are banned, then you're out of luck I'm afraid!
Though there are many racing betting sites out there, the 2 I would recommend are Bet America and TVG.
How Does Greyhound Betting Work?

So, now you know where to place your bets legally, but how exactly does greyhound racing betting work? If you're used to betting on horses, then it's basically the same thing, but here's a guide for beginners:
Greyhound Betting is ALWAYS Parimutuel Wagering
First things first, we need to talk about parimutuel wagering. Basically, parimutuel wagering means that all wagers of the same type get pooled together and the potential payouts are based on the total money bet on the greyhounds after the house takes its cut and taxes from the pool.
So basically, the more people that put money down on different greyhounds, the larger the pool of money becomes. The more people that put money down, the more the winners will get back in return. The final payout odds cannot be known until the last bet has been placed and finalized.
Not as complicated as it seems!
Betting sites and greyhound tracks love this system because they're always making a profit – players aren't competing with the house; they're competing with each other. The house always takes a cut from the pool regardless of what happens.
Different Types of Greyhound Bets
If you're familiar with horses racing bets, the rules are pretty much the same – daily double, pick 3, straight and exotic bets, etc. If you're totally new to all of this, allow me to introduce you to the main 2 types of bets – straight bets and exotic bets.
Straight Bets
Okay, so there are 4 types of straight bet that you're likely to come across:
Straight Bet to Win – you pick 1 dog to win 1st place. If the dog wins 1st place, you win. Simple.

Place Bet – you bet on 1 dog to "place", meaning that it comes either 1st or 2nd.

Show Bet – you bet on 1 dog to come 1st, 2nd, or 3rd.

Across the Board – You place the above 3 bets simultaneously on a single dog.
Pretty simple, right?
Exotic Bets
As the name implies, exotic bets are a little more complex. There are 10 main types of exotic bet that you'll find on betting sites, though there may be slight variations. I know this wall of bets below looks intimidating, but it's mostly quite simple stuff:
Quinella – you pick 2 different dogs, you win if they both come in 1st and 2nd place. The order that they place doesn't matter.

Exacta – you pick 2 different dogs, you win if they both come in 1st and 2nd place, but you must specify the order in which they will finish.

Trifecta – you pick 3 different dogs to finish in 1st, 2nd, and 3rd place. They must finish in the order that you specify.

Superfecta – you pick 4 different dogs to finish in 1st, 2nd, 3rd, and 4th place. They must finish in the exact order that you specify.

Daily Double – you bet on the 1st place dogs to finish in the first 2 races of the day (usually). You win if both get first place.

Pick 3 – you bet on the 1st place dogs for the first 3 races of the day (usually). You win if all 3 get first place. You might sometimes see variations like "Pick 4", "Pick 5", and "Pick 6".

Pick 6 Jackpot – Many racetracks have a special progressive jackpot reserved for anyone who gets a "pick 6" bet and wins. In other words, they must correctly pick the 1st place dogs in the first 6 races of the day.

Parlay – this is a series of interconnected bets put on multiple races. If your dog wins in the first race, your winnings roll over to your wager on the next race, and so on.

Boxing Bets – You can "box" a quinella, exacta, or trifecta so that you choose several dogs as potential winners/placers instead of just 2, 3, or 4. The more dogs you box, the pricier the bet becomes and the less potential winnings you get if you're right.

Keying Bets – This is similar to boxing your bets, but you must pick a specific dog that finishes 1st in each of the races you bet on. You could then have a selection of several dogs that finish in 2nd and 3rd place or 2nd, 3rd, and 4th place (depending on the bet). The runner-up dogs don't need to be in a specific order, but your "key" 1st place dog must be exact and must finish 1st.
Conclusion – Should You Try Greyhound Betting?
While it's maybe not the most morally upstanding sport in the world, greyhound betting is still legal in most of the US. If you're looking to put money on the best greyhound betting sites, I'd recommend Bet America and TVG above all else. These racing betting sites allow you to place a range of straight and exotic bets on multiple races all around the country.
Hopefully this guide has taught you your Daily Double from your Pick 3 and helped you to use a racing betting site without worry. If you have any greyhound racing tips or a racing betting site that you recommend, feel free to leave a comment below!